Sheet metal roofing contractors that are professionals should be able to satisfy the demand for metal roofing while maintaining high standards of workmanship.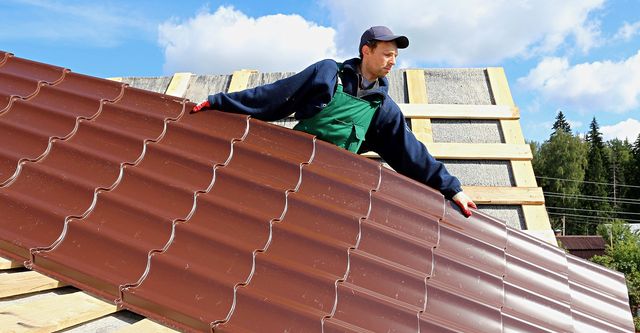 When it comes time to replace an old roof, metal roofing should be one of the options you explore. Using metal roofing that has been skillfully produced results in an excellent roof. Utilizing sheet metal for roofing applications provides superior protection from the elements, and it also has the potential to reduce overall energy expenses. This kind of roof covering is seeing the most rapid expansion within the roofing sector. Roofing made of metal is not only lightweight but also ecologically beneficial and is available in various forms and patterns.
Environmentally Safe
Sheet metal roofing systems are great for the environment. They have shown effective roofing options due to the advantages and benefits that cannot be matched by asphalt or shingle roofing. These advantages and benefits have allowed sheet metal roofing systems to prove successful roofing options. The aluminum and steel that were recycled were employed in the production of the steel used in this roofing form. When a metal roof has reached the end of its useful life, the material may be recycled once again since it is considered scrap metal. If you want to demonstrate how environmentally sensitive you are and save a ton of money on your heating and cooling expenses, consider replacing your home's old roof with one made of sheet metal.
>>Related post: How To Identify Quality Roofing and Sheet Metal?
Experienced Sheet Metal Roofing Contractors
When sheet metal is used for roofing purposes, it must be produced and put rightly to be effective. Installing a sheet metal roof requires a specific method known as sheet metal flashing, carried out by expert roofing contractors. The fact that sheet metal may be shaped to fulfill any criteria, both in terms of aesthetics and practicality, makes it an attractive material for use in roofing. Customers can feel more at ease knowing that their roofing job is being managed effectively when the roofing contractor they choose only employs the best sheet metal currently available on the market.
Roofing Systems Comprised of Sheet Metal
In most states, there is a need for sheet metal roofing. Customers are assured that they will get superior roofing systems from sheet metal experts with years of expertise when a roofing contractor provides these services. A genuine standing seam metal roof has UL-engineered clips and flathead screw fasteners, both of which offer a beautiful and straightforward installation process. Think about how much more sophisticated your house or company will seem with an actual standing seam metal roof. No other roofing material can compare to the excellent quality you will get when you decide to go with a sheet metal roof.
>>Related post: Things To Think About Before Selecting Metal Roofing