When contractors replace a roof around me, people wonder how much it will cost. No matter the material, replacing your roof is an investment.
If money is tight for you, then it's likely that you're seeking the "cheapest" choice that's currently accessible. But what kind of roofing material can you get for the least amount of money when you need to replace your roof?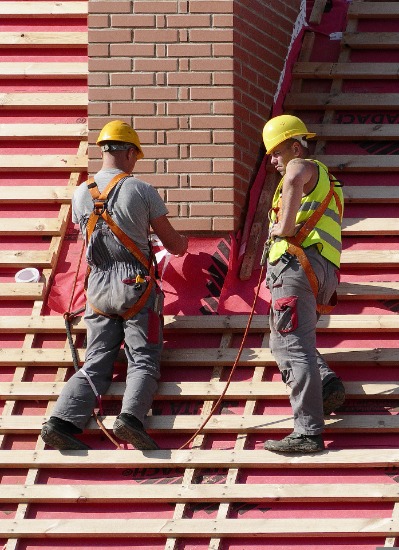 To empower you and every other homeowner, our mission at Swadley Roof Systems is to provide you with the information you need to make informed purchases. We take the time to educate and assist our customers in every step of the roof replacement process.
The Least Expensive Roofing Material For A New Roof Around Me
Asphalt shingles will be the most cost-effective roofing material for your next roof replacement if money is an issue. Asphalt is the most affordable roofing material, but there are three main varieties of asphalt shingles that determine the cost of your new roof.
You may save money using 3-tab asphalt shingles, the least expensive of the three varieties. But the roofing industry is gradually phasing them out.
Today, the most prevalent form of asphalt shingle on houses is the dimensional one. There is an additional 15% cost above 3-tab shingles, but you get a more incredible life and better warranty choices. Out of the three options, luxury asphalt shingles are the most costly. However, they'll set you back almost twice as much as dimensional shingles. However, if you want to save money on your asphalt roof replacement, you might choose a 3-tab or dimensional shingle.
Considerations To Keep In Mind While Selecting Asphalt Shingles
1. How long do asphalt shingles last?
Its lifetime is how long it will last. A new asphalt roof is an investment; therefore, you want to maximize its value.
The 3-tab asphalt shingles last 25 years, the least of the three varieties. Both dimensional and luxury shingles have a 30-year lifetime, while the luxury variety may last up to 50.
>>Related post: Roofing Advice From Recommended Roofers Near Me
2. The appearance of asphalt shingles
When meeting with a roofing contractor, you'll pick the roof's color and appearance. Decide how crucial the aesthetic of your new asphalt roof is.
The 3-tab shingles may be perfect for you if you don't care about roof appearance.
If you want a cedar shake roof without the expense, use dimensional asphalt shingles. Luxury shingles create a slate effect, but at a price.
All three asphalt shingles create lovely roofs. If you want your roof to stand out, use dimensional or premium asphalt shingles.
>>Related post: Finding the Right Metal Roof for Your Dream House
3. The asphalt shingle's warranty
All three asphalt shingles come with warranties from the manufacturer. This material guarantee protects your roof investment if the shingles fail.
You need to know the asphalt shingle warranty choices when replacing your roof. The manufacturer's guarantee on 3-tab shingles is 25 years.
Dimensional and luxury shingles come with a 30-year prorated warranty. Both may acquire the 50-year non-prorated extended warranty.
All asphalt roofing components (including shingles) must originate from one manufacturer for the increased guarantee. After your new asphalt roof is built, this guarantee covers all roofing materials. Poor roof installation and ventilation will void the warranty. It's essential to select a reputable roofer for asphalt roof replacement.