Are you looking for a reputable Dallas commercial roofing contractor? Your search is officially over!
We are in awe of our home state of Texas. We are aware that there is a storm on the horizon virtually every day. Yet, the vastness of our state and the variety of weather patterns help define both our capacity for resilience and our sense of autonomy.
Storms that occur regularly cannot be stopped, and it is impossible to predict how much damage will be caused when one of these storms finally strikes your Dallas house or commercial roof.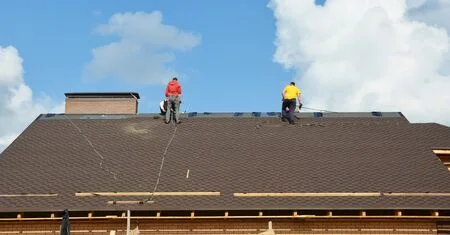 Every Year, Tornadoes and Hailstorms Damage Commercial Roofs in Dallas
Hailstorms are also responsible for significant property damage, even though tornadoes get more coverage in the national news. The roofs of buildings and residences are often the first to suffer damage from these storms. The owners of homes and commercial properties both experience a loss of financial stability and run the risk of suffering bodily harm.
The wind uproots the trees and topples the billboards. After a storm has passed through your neighborhood, it may be a bit hectic, but Swadley Roof Systems has proudly served the Dallas, Texas, area for many years, so we know how to examine your roof effectively.
>>Related post: The Best Ways to Communicate with Your Roofing Contractor
Focus on Commercial Roof Storm Damage Inspection
We are a Dallas commercial roofing contractor with our headquarters in Tomball, and our mission is to provide assistance to those in need around Dallas. After a storm has caused damage to your roof, we are experts in assessing the damage, repairing it, and replacing any damaged roofing components. Hailstorms are the most common weather event that may inflict such harm. Because of our highly specialized knowledge in this field, we can deliver the most precisely focused service.
We are taking a comprehensive look at the situation to reduce the damage caused by the storms. We swiftly assess and repair any leak damage that may have occurred on the premises, allowing you and your clients or family members to return to your usual routine. If a temporary remedy cannot make the problem safe, we will immediately replace the material that is in question. Moving ahead, we will use preventative measures and stringent codes to reduce the likelihood that the storm may impact your residence or place of business in the future.
>>Related post: Does Repairing Cost More Than Replacing My Roof?
Why Swadley Roof Systems?
Due to Texas' frequent storms, several roofing firms claim to have your best interests in mind. Our high-quality service and devotion to accuracy set us apart. We know how a damaged roof affects your family and company.
We prioritize speedy service to get you back to normal and minimize storm damage. We desire your family's protection. We recommend moving to a safer spot while we address storm damage. Don't worry about the cost. Our team knows the issue is sensitive; thus, we handle the earliest steps ourselves.