Roof commercial leaks are one of the most common concerns for business owners. If you're looking for a solution, you are in the right place!
Install, repair, and maintain commercial roofing materials easier by Swadley Roof Systems. Mold, leaks, and energy waste are all prevented by having a high-quality roof installed over your company. When it comes to commercial roofing, we'll assist you in choosing the finest option for your company and your budget.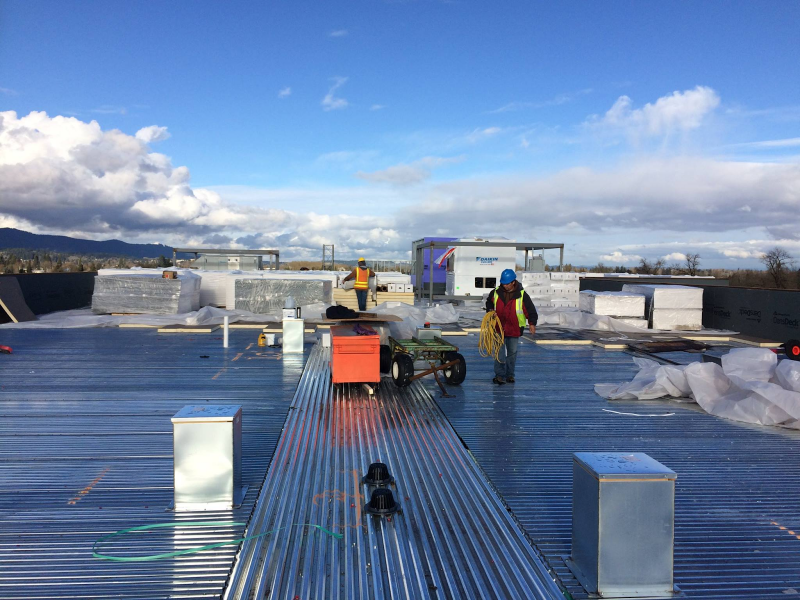 1. BUILT-UP ROOFING MEMBRANE
Built-up roofing, or "BUR" as often called, is like a regular tar-and-gravel roof because it's made of several layers. This commercial roofing system is a flexible type of roof because you can change the number of layers to help keep costs down or meet specific durability needs. It's a very old low-slope roof system and is one of the toughest roofing types available today.
2. METAL ROOFING
Metal roofing is a trendy choice for commercial buildings because it can be made of many kinds of metal. Metal roofing has a nice, finished look, but when money and durability are the most critical factors, it's best to go with what works best instead of what looks best. On the other hand, metal roofs don't catch fire easily and are more robust, and last longer than traditional commercial roofs. They also help make your building more environmentally friendly.
3. MODIFIED BITUMEN ROOFING
Reinforced roof fabrics are put down to act as "carriers" for bitumen, which is then cut and put down in layers like BUR membranes. These commercial roofs are often attached to commercial roofs as two-ply systems and stuck to the roof deck for the most stability and protection.
Modified bitumen roofs are easy to take care of and usually only need to be inspected and cleaned once a year. They have a higher tensile strength than most other types of flat roofs that are often walked on. So, if you think there will be a lot of traffic on the roof of your business, modified bitumen might be a good choice.
4. ROOF MEMBRANE THERMOSET
Thermoset roof systems are known as ethylene propylene diene terpolymer (EPDM) roofing. They are durable and can be used in many different ways. Plus, it's easier to keep up and fix than most other types of commercial roofs. An EPDM roof is made of a single layer of rubber and is resistant to UV light and ozone. This makes it a great choice to help you save money on your energy bills. This single-ply membrane roofing is also resistant to some acids, solvents, and alcohol and is very flexible in cold weather.
>>Related post: Questions To Ask Your Commercial Roofing Contractor
5. THERMOPLASTIC ROOF LAYER
Commercial roofs made of thermoplastic polyolefin (TPO) and polyvinyl chloride (PVC) are light, highly reflective, and greatly protect against the weather. They also resist UV light, tears or punctures, bacterial growth, and most chemicals, including oils and animal fats. Because thermoplastic roofs have strong seams, so they are also great for second-generation homes. These are often used in restaurants and other businesses that use ventilation systems that release oils and fats.
>>Related post: What Does A Commercial Roofing Company Do?
6. GREEN ROOFING
Green roofs are a type of commercial roof that can be used in many different ways. They've become popular in the past few years and are also an excellent way for businesses and commercial properties to be more environmentally friendly. The most significant benefit of green roofing systems is that they protect commercial buildings from the weather while also managing water, improving drainage, and saving energy. They're beautiful to look at and a big step toward making a commercial property more eco-friendly and sustainable.