Choosing your roofing system for residential purposes is very much different when choosing for industrial use. The roofing material for industrial or manufacturing purposes should not only consider the damages it can get from external factors like hailstorms, extreme winds, and other harsh weather conditions but also the chemicals, residue, fumes, or exhaust that can contribute to the degradation of the roofing materials. In addition, industrial roofing systems have more skylights to give natural light to the interior, which if not installed well, leaks may occur due to the penetration in the roofing system. Choosing the right roofing system for your industrial purposes will save you a huge amount in the long run.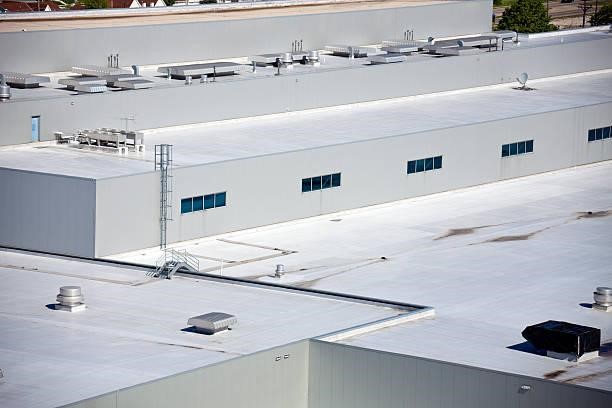 Things to consider for your industrial roofing system:
1. Building Codes
One of the best ways to guide you in choosing your industrial roofing systems is to check and review your local building code, this will also help you in complying with the requirements for the approval of your permit with no hassle. Especially in areas that experience frequent harsh weather conditions, some roofing systems may not be compatible with your industrial purpose. This will narrow down your choices of roofing material.
>>Related post: Different Roofing Insulation Material
2. Budget
Setting and planning out your budget will save you from the unnecessary purchases during the roofing installation process that can go overboard. You must plan out how much you can use for the installation. Some factors you need to think of are what materials suit best with your area, the type of roofing installation you want, additional features like ventilation or skylights, the installation cost of the installation as well as the transportation of these materials, and also the inflation with the material prices. Knowing what you need to buy will save you much and not go over your budget.
>>Related post: When Is The Best Time To Get Your Roof Repaired?
3. Roofing Material
Now that you have a certain budget for your industrial roofing system and know your local building codes, you can now choose your roofing system. There are a wide variety of roofing materials which you should not only consider the look but also their service life, cost, longevity, availability, durability, energy efficiency, and must be low-maintenance. Choosing the right roofing materials will save you much in the long run because it will cost you less with the repair, restoration, or replacement. These are the common roofing materials that are widely used in the industrial roofing system:
Built-Up Roofing
Built-Up Roofing System is the oldest flat roofing system. This type of flat roof is made from layers of asphalt and bitumen and combined with roofing felts. The process of the built-up roofing system is the application of hot tar or asphalt blended with bitumen which is being reinforced with roof felts.
>>Related post: Shifting to Flat Roofing System
TPO (Thermoplastic Polyolefin)
Thermoplastic Polyolefin is a single-ply membrane that is known to be durable, long-lasting, and energy-efficient as it has the ability to resist both heat and UV rays which helps greatly with the indoor air system. TPO is manufactured by sheets that come in different sizes and are available in different colors.
Metal Roofing
Metal Roofs are commonly made of stainless steel, aluminum, zinc, copper, and aluminum. This roof comes in different sizes by their gauge. Metal roofs are best known for their long lifespan, energy efficiency, lightweight, easy installation, and low maintenance.