The Risks Involved When You Perform Your Own Residential Roof Repairs
Is it possible for you to do a residential roof repair on your own? Be cautious; your roof is an intricate and essential component of your home.
Your family and possessions will be protected if it is in excellent condition. As a result, don't give it to the incorrect person. It's best to leave roof repairs to the pros unless you're an experienced roofing contractor.
Even so, there are critical safety considerations to keep in mind. So, let me explain why bringing in a professional roofer is always a good idea.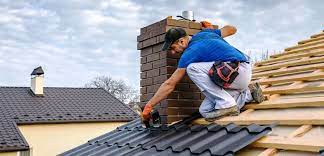 1. Improper Roofing Repairs
Residential roof repair is not for the faint of heart. Specialized equipment and training are required. If a roofer with years of experience and training can accomplish it, do you believe you can do a better job?
Even if you're careful, you may wind up making matters worse. Time might be wasted even when you put forth a lot of effort. As a result, contacting a reputable business is your best bet.
2. Risk of Injury
Residential roof repair requires working on high and sloping surfaces while hauling heavy equipment in adverse weather conditions. As a result, it's easy to see how dangerous this work is.
Even for the most seasoned professionals, this is a complex process. The only people capable of doing this work are those who have been adequately trained, have sufficient experience, and are utilizing appropriate safety equipment.
Most likely, you lack the necessary expertise and education. Wearing the proper safety gear might be a challenge even for you! Professional roofing businesses, on the other hand, have what it takes.
They'll ensure their employees are protected by providing them with the necessary gear. In addition, they must provide their employees with the required insurance coverage. This is a crucial factor to keep in mind. An accident that damages your property or harms a worker may be covered by this policy.
>>Related post: The Best Ways to Communicate with Your Roofing Contractor
3. Repair Time Frame
Roof damage usually needs immediate residential roof repair. If not, they'll just become worse and cost you more money. However, repairing the damage yourself may result in a longer turnaround time. These tasks need the use of instruments that the average homeowner does not have. In addition, you're not likely to have a clue on how to approach the problem or the proper processes to carry out the repair.
You won't have to deal with these issues if you hire a professional to do the job for you. You may count on us to provide high-quality, quick, and risk-free service.
4. Expense Increases
Homeowners' desire to fix roof damage is based on a misguided belief. They believe that they can save money by doing this. However, this is not the case.
Hiring a professional may seem like a more expensive option at first. However, in the end, the advantages of hiring an expert much outweigh the disadvantages. To avoid future leaks or damage, it is best to leave roofing difficulties to qualified professionals.
Professionally installed and repaired roofs, on the other hand, will function at their peak. Aside from saving you money, it will also help make your house more energy-efficient.
>>Related post: Common Residential Flat Roof Repair Costs
5. You May Void Your Warranty
Damage to roofing materials often necessitates that they are repaired by specialists. Manufacturers often educate and certify roofing contractors to ensure that their goods are used correctly.
Your warranty may be voided due to trying to solve the issue on your own and failing to do so. As a result, you'll be responsible for paying for any repairs. As a last reminder, before attempting to be an expert, there is another vital point to consider.