A flat roof has its pros and cons when compared to a sloping roof. It's crucial to evaluate these and what goes into residential flat roof repair.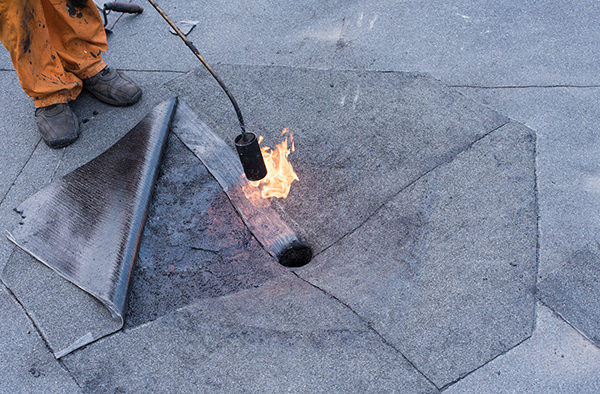 Which Flat Roof Problems Are Most Frequently Faced?
There are no steep slopes on flat rooftops. The inherent problem with flat roofs is water and humidity. Liquids may pool on the roof if improperly built or not there is not enough drainage. There's a reason why roofs are built to keep up water, but if water is allowed to sit there for an extended length of time, it can eventually lead to roof damage and leaks. Mold and other issues might arise if a roof cannot keep water out of a structure.
In addition, flat roofs are susceptible to time and wear and tear. A roof's asphalt may lose flexibility over time and result in cracks. Damaged roofs may need an intensive residential flat roof repair or replacement if the damage is serious. For this reason, as soon as you notice a fracture in your flat roof, call a roofing contractor right once.
>>Related post: Shifting to Flat Roofing System
What's Involved in Flat Roof Repair?
Professional roof contractors are vital for maintaining or replacing residential flat roof repair because of their high skill and knowledge.
For a flat roof, the best technique of repair is prevention. When it comes to the roof, it's best to have it inspected twice a year or after significant storms. Minor problems may be caught early and then fixed before they grow into larger ones. In addition, they will be able to tell you whether or not your roof needs to be repaired or rebuilt. A roof may need to be replaced if it is beyond repair. Flat roofs often need replacement every 10-15 years, so finding out how old yours is might be a good starting point.
>>Related post: Proper Roof Installation Is Essential To The Performance Of A Roof

Water pooling on flat roofs is a typical problem, as previously discussed. This is where water gathers and may cause harm to the roof. In other cases, the problem may be as simple as the roof pitch being out of whack, which may lead to water pooling. Tapered insulation may be added to your residential flat roof repair when it has to be replaced in this situation. When the gutters can collect rainwater, there will be less chance of it pooling.
Rotted decking is another common problem caused by roof leaks. A modified bitumen top sheet is often used on many roofs. The cap sheet may be put by hot mopping asphalt or by torching. To establish whether the decking is decaying, you need to remove the felt from the places where the roof is leaking to assess if the roof needs to be replaced or repaired.