As the second-biggest state in America, Texas holds varying climates and temperatures. According to data, Texas holds fourth place in the Hottest States 2022 having an annual temperature of 65.3 °F which can raise up to 93°F to 101°F during the hottest month, August. With this abundant amount of solar energy, investing in a solar roof is not just beneficial to the environment but also to your wallet.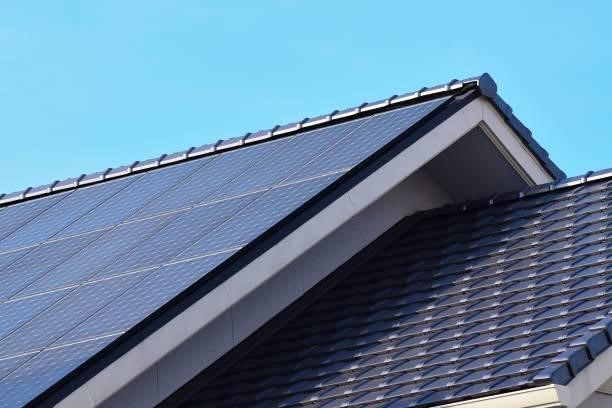 There are different options to install solar roofs but the most common are:
1. Solar Panel
Solar Panels have been in the market for a long time compared to solar shingles and tiles. Panels are put atop your roof which you need to reinforce because of their additional weight. However, some roofing materials are brittle like the clay tile roofs. The best roofing materials you can use for solar panels are concrete tiles, asphalt shingles, and metal roofs.
2. Solar Shingles
Solar shingles are easier to install as they are the same size as the common shingles, they are more durable as they are part of the roofing system and since they are also a roofing material, it is more efficient as it takes more sunlight in different angles. The well-known companies that deliver quality solar shingles are Tesla, CertainTeed, SunTegra, and Luma.
>>Related post: When Is The Best Time To Get Your Roof Repaired?
3. Solar Tiles
One of the newest inventions is solar tiles. Just like solar shingles, these are also the same sizes as the common tile roof and are more durable as they are created to be weather resistant. They perform well during heavy winds and hail as they do not need to be bolted, unlike the conventional roofing material. The companies that are providing solar tiles in the market are Tesla, GB Sol, Solarcentury, and Solecco.
>>Related post: A Guide to Roofing Tiles Installation
Solar Roof works in a way that they absorb the sun rays and convert the light to thermal or electrical energy that you can use to power your home that lessening your bills and also reducing your carbon footprint.
Advantages of Solar Roofing System:
Energy-Efficient - Renewable and Free Energy
Lessen Electrical Bills
Durable & Less Maintenance
Weather Resistant including snow and ice-melting
Reduces Fossil Fuel Use; Eco-Friendly
Sleek and Modern
Easy Installation
Disadvantages of Solar Roofing System:
Cost
Weather Dependent
Limited Availability
With the abundance of solar energy in Texas, shifting to a solar roofing system is a great investment. As with any costly roofing materials, the first cost will always be expensive but over time you won't need to invest in the repair. Some parts of Texas provide solar incentives for homeowners who are making a change to the solar roofing system.
1. Texas Net Metering Programs - this program is for homeowners who have excess energy generated by their solar roof in exchange for energy credits from their local utility company. Currently, this program is not statewide, so consult first with your area. Some of the areas that adopted NEM are American Electric Power (AEP), CPS Energy, or you can check on the DSIRE - Database of State Incentives for Renewables & Efficiency.
2. Local Solar Rebate Programs - this program is made possible by partnering your solar roofing system with your local utility company. Depending on your city, you can get up to $2,500 by installing a solar roofing system plus incentives for excess energy and using local solar panels. You can confirm first with your local community regarding the rebates and incentives they provide.
3. Federal Solar Tax Credit - this program is eligible for the entire U.S. homeowner who has installed solar panels, solar batteries, or any renewable energy storage system. Under ITC, you can get up to 26% less of your taxable income.