Commercial roofing systems and residential roofs have much more in common regarding safeguarding your property from the weather than they do not.
The slope of the roof, which is governed by structural size, differentiates commercial and residential roofing systems. Smaller houses frequently have a steep pitch roof visible from the ground and utilize tile, asphalt shingles, and slate. Flat or moderately sloped roofs are typical on business rooftops due to their size.
Commercial roof materials might vary greatly depending on the building's architecture, weather circumstances, heat or cold, and foot activity.
Modern Technology And Commercial Roofing Materials
Commercial roofing contractors must keep up-to-date on the newest commercial roofing technologies to serve their customers. New commercial roofing solutions have been developed in recent years to reduce stormwater runoff and heating and cooling expenses.
>>Related post: What are the New Roofing Services Offered by Roofing Contractors?
Selecting A Commercial Roofing System
Keep a few things in mind when choosing a commercial roof for your company. Different companies need different planning strategies, so examine the business you're working with. You can make a more educated decision if you know your business roofing alternatives.
Commercial Roofs' Style and Shapes
It's critical to consider the roof's slope while installing a commercial roofing system. Low Slope Roofs (also known as Flat Roofs) and Steep Slope Roofs are two types of roofs.
Low Slope Roofs: Warehouses, big-box retailers, and shopping malls are all frequent locations for low-slope roofs. EPDM, PVC, and TPO are just a few flat roof alternatives available with this roofing system.
Steep Slope Roofs: These roofing systems are more prevalent in residential houses than commercial ones. Metal, shingles, slate, and tile are all common choices for this roofing system.
Kinds Of Commercial Roofing Systems
After determining the roof's slope, you may choose the ideal roofing solution for your company. Commercial roofing systems are included below.
Membrane roofing
TPO, PVC, and EPDM are used. They're flexible, durable materials that resist peeling, cracking, and other deterioration. They're intended for single-layer installation. Single-ply roofing includes thermoplastic and thermoset membranes.
TPO (Thermoplastic Polyolefin)
Single-ply TPO membranes are made of polypropylene and ethylene-propylene rubber. TPO, a thermoplastic membrane, comes in white, grey, and brown. The membrane may be mechanically connected, glued, or ballasted.
PVC (Polyvinyl Chloride)
The top ply is UV-resistant. The bottom ply is darker and includes plasticizers to make installation simpler. PVC membranes are durable, long-lasting, and fireproof. Welding PVC to an adjoining sheet makes it waterproof. Welding a pre-fabricated rib to PVC sheets gives a standing seam roof look at a lesser cost. PVC membranes may be recycled and reused.
EPDM (Ethylene Propylene Diene Monomer)
EPDM roofing EPDM is a chemical compound recognized for its elasticity and tenacity. EPDM roofing resists UV radiation and the sun's harmful rays. EPDM rubber roofing is a popular commercial material since it's inexpensive and durable. EPDM roofing membranes are natural gas and oil-based synthetic rubber. Low-slope commercial buildings worldwide employ EPDM roofing.
Modified Bitumen Roofing Systems
It may be applied in various layers (self-adhesive sheets, hot-mopped asphalt, torch applied, or cold-applied adhesives) in hot and cold temperatures, giving it a four-season choice. Melted seams provide a solid connection. They're resistant to wind, fire, and hail; therefore, they're storm-proof.
Built-Up Roofing Systems
Built-up roofing, one of the oldest types, comprises 3-5 layers for more excellent protection, particularly in severe climates with broad temperature fluctuations. Built-up roofing, or BUR, is almost 100 years old.
Metal Roofs
Metal roofing is beautiful, durable, and long-lasting. Many building owners favor metal roofs for their appearance and longevity. Certain metal roofs have a longer lifetime and are more durable than shingles.
Liquid Applied Roofing
Resin and polyester reinforce a liquid-applied roofing membrane. It can reach hard-to-reach locations to provide more outstanding waterproofing. Usually, two coatings are sprayed or roller-applied. A liquid roof doesn't produce obtrusive disruptions or release hazardous or intense aromas, making it a viable solution for companies needing to remain open during development.
Roof Coating Systems
Roof Coating Systems Stretchable and resilient. Acrylic and silicone are popular roof coverings. Coatings help keep metal roofs cool, minimize energy use, prevent leaks, and prolong roof life.
Green Roofs
Green roofs don't work everywhere. They may save energy costs through natural insulation, offer delightful environments for humans and animals, and absorb rainfall, reducing the need for costly drainage systems. Green roofs enhance air quality and lower UHI. Nations Roof® has implemented green roofing systems nationwide.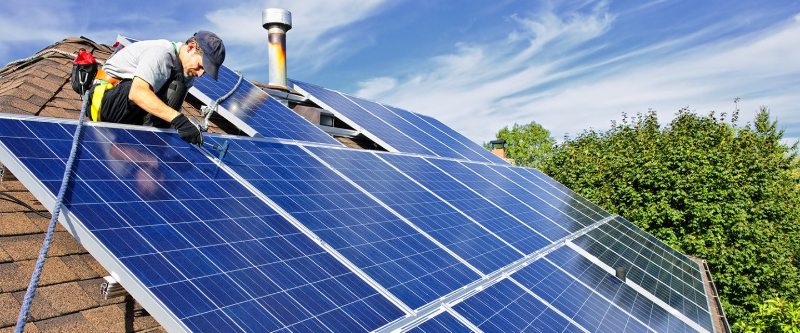 Solar PV Panels
Solar panels convert sunlight to electricity. Photovoltaics may save consumers money on roofing in high-sun zones. Some roofing companies can help install a rooftop PV system while maintaining the building's water tightness.
Steep Slopes
Steep slope roofing is for roofs with a 3:12 slope or greater. Commercial structures like hotels or institutions may use this roof as a design element. The roof slope determines which materials may be utilized, from asphalt composition roll through wood shakes, wood shingle, clay, concrete tile, slate, and metal.

Insulation & Cover Boards
Cover boards and thermal insulations enhance energy efficiency and cut utility expenses. When replacing a roof, install insulation to fulfill energy regulations.
Swadley Roof Systems Know Commercial Roofing
When choosing a roofing system, there is an overload of alternatives. Commercial roofing systems are no problem for Swadley Roof Systems, which has the know-how to design, repair, replace, and maintain them. Commercial, industrial, offices, hotels, distribution facilities, retail centers, education, and more are all handled by us. We can provide our clients with whatever sort of roof they choose at the most incredible possible price because of our relationships with renowned manufacturers.
You can rely on our team of roofing experts to help you find the ideal solution for your roof, no matter what kind it is or what condition it is in.