5 Key Qualities You Should Look For in Getting a Commercial Roof Specialist
Have a hard time choosing your roof specialist? We have prepared 5 Key Qualifications one should acquire to successfully deliver the job.
Roof Installation & Renovation could sometimes feel like a heavy task especially when it's your first time. This could go from being the inspector to being the supervisor which is quite overwhelming and it could cost you even more. And now the question pops, how can you have your roof chosen or repaired without these burdens? Hire a specialist. But let's face it, there are many that you could consider, so how would you choose one over the other?
We got you! Here are the 5 key qualifications that you should look for in choosing your commercial roof specialist.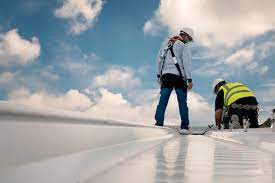 1. Professional & Licensed
Your specialist should be someone you can rely on and finding someone could be hard. One thing is you should set your standard and that you should be professional & acquire a license. You can ask for certain documents supporting their license claim and verify with your local government if they meet the requirements. You can rely on that the licensed are knowledgeable about a wide range of building codes & standards that they should comply with. They can help prepare the necessary papers and permits before work commences.
2. Experienced with Good Reputation
Having a spot in the industry is easy but having a good reputation takes a lot. If you want your project to be successful, you should choose someone that puts the quality of work and material first. You can ask for portfolios for their ongoing and finished projects and see if their work is what you're looking for. You could also double-check by going into their websites and checking their customers' reviews and seeing the pattern if they deliver well.
>>Related post: Tips for Selecting the Right Roofing for Your Home
3. Bonds & Insurance
Safety is one of the major concerns to ensure the success of the project. Insurance and Bonds are not necessarily required but a must in a reputable specialist. Having insurance will protect you from any cost for damages and accidents that may unfortunately occur. While having a bond will financially protect you when they fail to complete the job or didn't finish the job promptly. They should be able to provide necessary information like the bond number, bond amount, and Executed Date and you can have it verified with the Insurance or Bond Company to check the authenticity.
4. Use of Quality & Advanced Methodology
Reliable specialists always go after the advancement of their trade to deliver a good quality of work and build their reputation. Many different methods are advancing each year that could improve the cost, speed, and quality of work, and being informed shows the dedication to work. A specialist should be able to connect & partner with the best in the industry. You should be aware of the materials if these could withstand your area and also that the methods are up-to-date. This will guarantee you the longevity of their product and service.
>>Related post: Roof Repair or Replacement? How to Select The Best Option
5. Time & Budget Aware
The foundation of a successful project will always be time & budget. The longer the project commences, the more money it costs, and having an aware specialist will help you achieve a good quality of work within your specific budget. You should be able to ask how they handle project planning, execution, and supervision. Participate and communicate with your specialist to realistically anticipate the finances and track the work activities to keep the project on time and within budget.
Summary
Choosing could cost you time but it is harder if it will cost a fortune but bad quality of work. A bonus tip is to choose at least three different specialists and communicate your needs and pay attention to how they communicate with you and what could the outcome be, you can also ask for a bid. They would sometimes give you the lowest bid but you should always choose the reasonable one. Once you've chosen one, always have a contract, and review and it should be agreed upon by both. Now that you have your contract, you can just wait until the completion.